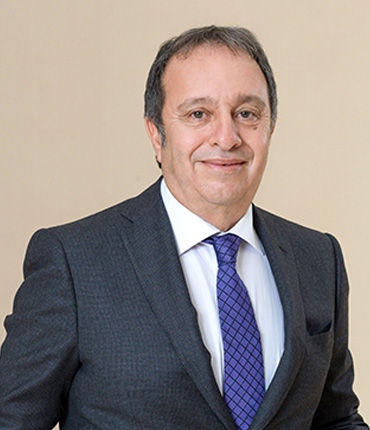 Dear Stakeholders,
As Zorlu Holding, we continue our operations in all our fields of activity to bring into life the dream of "a sustainable and smart life" by offering the forward-moving power of technology to the society.
In line with this approach, we invest throughout our sectors in fields that will fuel synergies between our group companies and shape the smart world of the future. Thanks to this synergy we create among our companies, we continue to take important steps to transform Zorlu Holding into a global group that produces value-added services of the future. We endeavor to become part of the innovation economy that has begun to emerge as a result of the transformation that the world has gone through.
We know that, in the near future, the merging of big data, information technologies and digital communication will result in a smart, connected product-service ecosystem that is focused on consumer experience. Many technological megatrends such as "Artificial Intelligence", "Augmented Reality (AR)" and "Blockchain" will change our lives from beginning to end. Smart systems will assume the role of the interpreter constantly communicating between consumers and companies. As Zorlu Holding, we have begun to work to enter the league of "future-defining" global companies by offering value-added services that produce products and solutions to the upcoming era. We have begun this journey in the last quarter of 2017 by becoming a part of the Joint Venture for Turkey's automobile, and we continue by taking concrete steps towards the development of smart systems.
As Zorlu Group, while taking these steps to bring us to the future, we continue our activities in our group companies. In the textiles sector, the first child of our group, we continue to be the innovative partner of world giants as the leading producer of European home textiles and the largest producer of integrated polyester yarn in Europe. As one of the groups that perform the biggest textile exports in Turkey, we continue to grow our own home textile stores both in Turkey and in the neighboring countries with a population of 700 million. We are improving our operational productivity every day more and more while leading the home textiles sector in Turkey with our innovative products. We are proud to have created a "Made by Zorlu" brand in the world, with our fabrics that are self-cleaning, breathing, resistant to the most difficult conditions, nano or antimicrobial fabrics, moisture management fabrics with Dry Touch technology and 100% organic home textile products with organic cotton. We continue to make a difference with our smart and innovative products such as "Self-Cleaning Curtain", "Cool Keeping Pike", "Led Light Curtain" and "QR Coded Content Producing linens". In the upcoming period, we will continue to pioneers in the world of yarn, fabric and home textiles with our innovation approach the power we source from our two R&D Centers and our Design Center approved by the Ministry of Science, Industry and Technology.
Vestel, one of our group companies, is strengthening its position in the domestic market and is now running to its 20th export championship in a row in its sector with its exports to 155 countries while in the previous years it has further strengthened its European presence with agreements with Sharp and Toshiba.  Vestel Group aims to grow in countries in Africa and the Middle East.
While Vestel Group has further strengthened its European presence with agreements with Sharp and Toshiba in the past years; it also continues growing in countries in Africa and the Middle East through a company established in Dubai Multi Commodities Centre Free Trade Zone. The Group has also extended its ongoing partnership since 3 years with South Korean Daewoo Electronics targeting European and North African markets by signing a new agreement. With this new agreement, we will start producing refrigerators, dishwashers and televisions for the Daewoo brand in addition to the washing machine production we have carried out since 2015. Our collaborations will be broadened to include collaborative research, product development and production in these categories. We will export these products we produce for Daewoo all over the world, especially to the European market. While continuing to lead the LED lighting market, unmanned aerial vehicles (UAVs) in compliance with NATO standards are now available for flight. One of Turkey's best-selling three phones and Turkey's first domestic production smart phone, Venus, and our unmanned aerial vehicles in NATO standards will further increase our export potential in the upcoming years.
We continue to innovate and invest in providing all of these accomplishments without interruption. In line with this understanding, we have laid the foundation for the washing machine and dryer plant in which we invested € 70 million. We plan to complete this investment in mid- 2018. In addition, we have launched our 120 million euros automation investment in our Smart Phone and Tablet Factory in which we have been investing for 3-4 years. Thanks to this investment, our Smart Phone and Tablet Factory, which has an annual production capacity of 10 million units, will be able to compete on a global scale with a high volume production capacity and tap into different market. This investment also marks the foundation of our transition to Industry 4.0, accelerating our Industry 4.0 investments in Vestel City. We aim to be the first factory which completes its conversion to Industry 4.0, and once this transition is completed, Vestel City will become a smart factory that will operate all phases of production from order to delivery with full automation. With investments in Industry 4.0, with its excellence approach, with its championship in the European Industrial Excellence Awards and smart products, services and concepts, Vestel will continue to carry smart life from homes to cities in the coming years.
Our Energy Group has improved its efficiency and profitability following the completion of our ongoing investment projects. As a pioneer in local and renewable energies, we have increased the share of renewable energy sources in our total installed capacity of power plants in Turkey to 78 percent, and in our total portfolio to 53 percent. We have completed the first unit of Kızıldere III geothermal power plant, with an installed capacity of 99.5 MW, with an investment of 320 million dollars. Once completed, the plant will have a 165 MW total installed capacity, becoming the biggest geothermal power plant in Turkey and one the biggest in the world. Our investment studies on Alasehir II (50 MW) geothermal power plant are continuing. After geothermal and wind, we have started to invest heavily in solar energy. As the largest business partner and sole distributor of First Solar in 26 countries, which develops new generation technologies in the solar energy field, we have taken the first step in this field. This was followed by the investment of a solar energy project with a total installed capacity of 300 MW and by the memorandum of understanding (MoU) we signed with solar power plants that would soon supply electricity to Palestine. We are also about to undertake a project in Pakistan that combines wind energy and solar energy. We received a favorable response to our preliminary license application for a 30 MW hybrid power plant to be installed in the Jhimpir Wind Field with a total capacity of 56.4 MW. We continue to develop our electricity distribution and sales activities in the Osmangazi region with OEDAŞ. We continue to expand our natural gas distribution service provided by with GAZDAŞ in Gaziantep and Trakya regions. In 2018, we will focus on smart energy technologies in the energy sector and achieve Turkey's most innovative and extraordinary projects.
Our Property Group, began collecting the fruits of our investments thanks to Zorlu Center, Turkey's first 5-functional mixed-use project. All our functions continue to make us happy with their performances. Shopping center traffic is increasing day by day. Zorlu PSM, our group's most important investment in art and culture, hosts world's most prestigious art events and artists, approaching step by step its goal to be among the first five in the world in its field.
Our efforts to transform Meta Nickel facility, the first specialized company established to develop Turkey's nickel-cobalt resources that we have implemented in Gördes Manisa with an investment of nearly $600 million in 10 years for the first phrase with 10 thousand tons of capacity, into an R&D and technology base for the new generation of mining in our country continue. We will double the capacity until 2023 with new investments, and we will produce and export different forms of nickel, which is a very strategic element used in the batteries of electric cars, with higher added value.
As Zorlu Group, as it has been for 65 years, we will be a Group that gives hope to our country in the coming period, which inspires our people and provides to the service of the society technology as an element that carries the human life forward. We will proceed in the direction of our unlimited imagination, our courage, our entrepreneurship and our innovation, and the goal of becoming a global leader company shaping the smart world of the future.
I express my gratitude to all of our employees, business partners and customers who have contributed to our success with their confidence, hard work and dedication.
Sincerely, Ömer Yüngül CEO